Absorbable Surgical Suture
Non Absorbable Surgical Suture
Product name: Polyester braided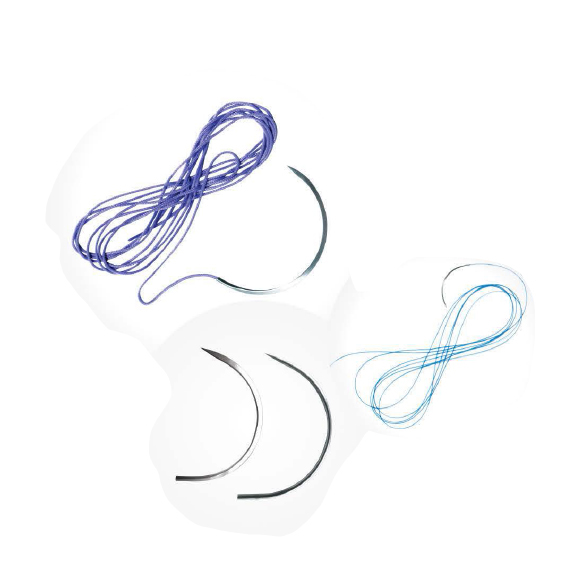 Packaging Details:Available in multiple package
Delivery Time: Shipped in 20 days after payment
DETAILED
Description
:
Provides prolonged tensile strength retention in tissue.
Smooth surface will not support bacterial growth.
Elicits only minimal tissue reaction.
Higher co-eficient of surface friction than other synthetic monofilament materials gives much improved security.
Stronger than other synthetic monofitament suture materials of similar size.
Colour
:
Green
Range
:
Gauge sizes 7/0 to 5# (USP).
Storage methods
:
Store between 25ºC-30ºC and store in d叩 place.
Don't use damaged packages.
Sterilization methods
:
Gamma radiation.
NEEDLE LENGTH
NEEDLE DESCRIPTION
SUTURE LENGTH (cm )
GAUGE
Product code
USP
Metric
3/8 Circle
round bodied
45
5/ 0
1
PB45010F0
1/2 Circle
round bodied
70
4/ 0
1.5
PB64015B0
3/8 Circle
reverse cutting
70
4/0
1.5
PB64016F4
75
3/0
2
PB73016F4
3/8 Circle
reverse cutting
70
3/ 0
2
PB73020F4
75
2/ 0
3
PB72020F4
75
1/ 0
3.5
PB71020F4


3/8 Circle
reverse cutting
75
1
4
PB70124F4
1/2 Circle
round bodied
70
3/ 0
2
PB73030B0
75
2/ 0
3
PB72030B0
75
1/ 0
3.5
PB71030B0
75
1
4
PB70130B0


3/8 Circle
reverse cutting
70
2/ 0
3
PB72040F4
75
1/ 0
3.5
PB71040F4
75
1
4
PB70140F4
75
2
5
PB70240F4
3/8 Circle
round bodied
75
2
5
PB70245F0
3/8 Circle
curved cutting
70
2/ 0
3
PB72048F2
75
1/ 0
3.5
PB71048F2
75
1
4
PB70148F2
90
2
5
PB80248F2
Interested in this product, please leave us a message