Absorbable Surgical Suture
Non Absorbable Surgical Suture
Product name: Silk braided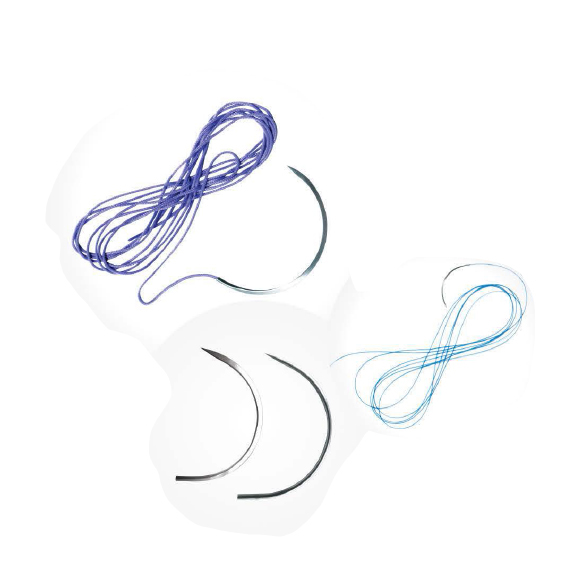 Packaging Details:Available in multiple package
Delivery Time: Shipped in 20 days after payment
DETAILED
Description
:
For easy handling and secure knot tying.
With wax to give "hand" to the suture.
Does not become limp or brittle.
Produced from cocoons of the silk worm bombyx mori.
Provides prolonged tensile strength retention in tissue.
Colour
:
Black
Range
:
Braíded 7/0 to 4# (USP).
Storage methods
:
Store between 25ºC-30ºC and store in dry place.
Don't use damaged packages.
Sterilization methods
:
Gamma radíatíon.
NEEDLE LENGTH
NEEDLE DESCRIPTION
SUTURE LENGTH (cm )
GAUGE
Product code
USP
Metric
1/2 Circle
round bodied
45
8/0
0.4
SK48008B0
45
7/0
0.5
SK47008B0
45
6/0
0.7
SK46008B0
3/8 Circle
reverse cutting
60
7/ 0
0.5
SK57010F4
60
6/ 0
0.7
SK56010F4
70
5/ 0
1
SK65010F4
3/8 Circle
reverse cutting
60
6/ 0
0.7
SK56012F4
60
5/ 0
1
SK55012F4
70
4/ 0
1.5
SK64012F4


1/2 Circle
round bodied
60
5/ 0
1
SK55015B0
3/8 Circle
reverse cutting
70
4/ 0
1.5
SK74020F4
75
3/ 0
2
SK73020F4
75
2/ 0
3
SK72020F4
75
1/ 0
3.5
SK71020F4
3/8 Circle
reverse cutting
75
1/ 0
4
SK70124F4
1/2 Circle
round bodied
75
2
5
SK70238B0


1/2 Circle
round bodied heavy
70
2/ 0
3
SK72040Bl
75
1/ 0
3.5
SK71040B1
75
1
1
SK70140Bl
75
2
2
SK70240B1
1/2 Circle
round bodied
70
2/ 0
3
SK72050B0
75
1/ 0
3.5
SK71050B0
75
1
4
SK70150B0
100
2
5
SK90250B0
Interested in this product, please leave us a message