Absorbable Surgical Suture
Non Absorbable Surgical Suture
Product name: Polydioxanone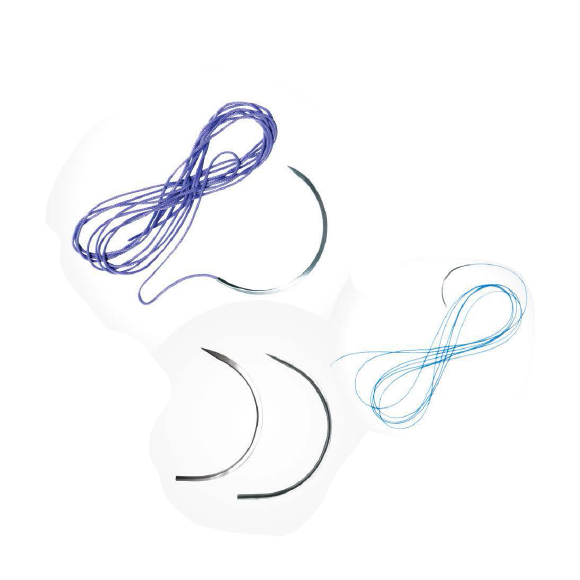 Packaging Details:Available in multiple package
Delivery Time: Shipped in 20 days after payment
DETAILED
Description
:
For smooth passage through tissue.
For minimal tissue reaction.
By hydrolysis Complete between 180 & 210 days.
Always predictable and reliable.
High initial tensile strength and long-term strength retention for up to 56 days.
Colour
:
Violet and undyed.
Range
:
Gauge sizes 8/0 to 2# (USP).
Storage methods
:
Store between 25ºC-30ºC and store in dry place.
Don't use damaged packages.
Sterilization methods
:
Ethylene oxide.
NEEDLE LENGTH
NEEDLE DESCRIPTION
SUTURE LENGTH (cm )
GAUGE
Product code
USP
Metric
3/8 Circle
micro-point spatula curved double
30
8/0
0.4
PDS3806 .5GB
45
7/0
0.5
PDS4706.5GB
3/8 Circle
reverse cutting
60
6/ 0
0.7
PDS56012F4
60
5/ 0
1
PDS55012F4
70
4/ 0
1.5
PDS64012F4
3/8 Circle
reverse cutting
60
5/ 0
1
PDS55016F4
70
4/ 0
1.5
PDS64016F4
75
3/ 0
2
PDS73016F4


3/8 Circle
reverse cutting
60
4/ 0
1.5
PDS54019F4
70
3/ 0
2
PDS63019F4
76
2/ 0
3
PDS72019F4
0
3/8 Circle
reverse cutting
75
3/ 0
2
PDS73024F4
75
2/ 0
3
PDS72024F4
75
1/ 0
3.5
PDS71024F4
75
1
4
PDS70124F4
1/2 Circle
reverse cutting
75
3/ 0
2
PDS73030F4
75
2/ 0
3
PDS72030F4
75
1/ 0
3.5
PDS71030F4
75
1
4
PDS70130F4


1/2 Circle
round bodied heavy
75
2/ 0
3
PDS72040B1
75
1/ 0
3.5
PDS71040B1
75
1
4
PDS70140B1
75
2
5
PDS70240B1

straight cutting
75
3/ 0
2
PDS73045A2
75
2/ 0
3
PDS72045A2
75
1/ 0
3.5
PDS71045A2
75
1
4
PDS70145A2
Interested in this product, please leave us a message