Absorbable Surgical Suture
Non Absorbable Surgical Suture
Product name: Rapide Polyglactin 910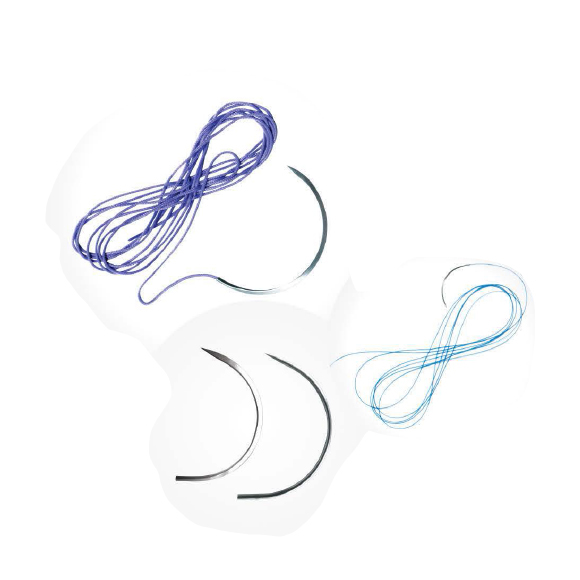 Packaging Details:
Delivery Time:
DETAILED
Description
:
For easy handling and secure knot tying.
For smooth passage through tissue and easy knot tie down.
Rapid absorption by hydrolysis Complete by 42 days.Always predictable and reliable.
Strength retention for 10-12 days.
Colour
:
Violet and undyed.
Range
:
Gauge sizes 8/0 to 1# (USP).
Storage methods
:
Store between 25ºC-30ºC and store ìn dry place.
Don't use damaged packages.
Sterilization methods
:
Ethylene oxide.
NEEDLE LENGTH
NEEDLE DESCRIPTION
SUTURE LENGTH (cm )
GAUGE
Product code
USP
Metric
3/8 Circle
micro-point spatula curved double
30
8/0
0.4
RAPGLA3B06 . 5GB
45
7/0
0.5
RAPGLA4706 . 5GB
3/8 Circle
reverse cutting
60
6/ 0
0.7
RAPGLA56010F4
70
5/ 0
1
RAPGLA65010F4
1/2 Circle
round bodied
60
6/ 0
0.7
RAPGLA5601580
60
5/ 0
1
RAPGLA5501580
70
4/ 0
1.5
RAPGLA6401580
75
3/ 0
2
RAPGLA 7301580


3/8 Circle
reverse cutting
60
5/ 0
1
RAPGLA55019F4
60
4/ 0
1.5
RAPGLA54019F4
70
3/ 0
2
RAPGLA63019F4
75
2/ 0
3
RAPGLA 72019F4
3/8 Circle
reverse cutting
75
3/ 0
2
RAPGLA 73024F4
75
2/ 0
3
RAPGLA 72024F4
75
1/ 0
3.5
RAPGLA 71 024F4
75
1
4
RAPGLA 70124F4
3/8 Circle
reverse cutting
75
3/ 0
2
RAPGLA 73030F4
75
2/ 0
3
RAPGLA 72030F4
75
1/ 0
4.5
RAPGLA 71 030F4
75
1
4
RAPGLA70130F4


1/2 Circle
round bodied heavy
75
2/ 0
3
RAPGLA 720408
75
1/ 0
3.5
RAPGLA 7104081
75
1
4
RAPGLA 701408
75
2
5
RAPGLA 702408 1
3/8 Circle
round bodied
75
2/ 0
3
RAPGLA 72045F0
75
1/ 0
3.5
RAPGLA 71 045F0
75
1
4
RAPGLA 70145F0
75
2
5
RAPGLA 70245F0
Interested in this product, please leave us a message